Road biking in Morzine
Morzine is a world famous destination for road cycling in the French Alps. The unique geography of this area of the French Alps, with a large number of mountain cols on Morzine's doorstep, provides steep climbs, long descents and breathtaking scenery – which make Morzine a Mecca for road cyclists and alpine cycling holidays.
What makes Morzine the perfect destination for road cyclists?
The geography of the Alps around Morzine presents a wide range of quiet roads to cycle on. There is something available for all riders, from undulating terrain to towering alpine cols. The famous cols close to Morzine such as the Col de Joux Plane, Col de la Ramaz, Col de la Joux Verte and Col de la Colombiere give strong riders the opportunity of challenging rides with long and steep ascents and descents. Riders looking for less difficult routes to cycle in the Alps can tackle lower, undulating rides including La Forclaz, Col de Corbier and Col de la Jambaz. There are routes that allow quick jaunts for those looking for an early morning or evening ride, for example Col de l'Encrenaz, or epic full day adventures for cyclists out to test their fitness to the full, e.g. Tour des Aravis or circumnavigating Lake Geneva. Many professional cycling teams and top-level triathletes use Morzine as a training base.
Our Simply Morzine accommodation is in the perfect position for a road cycling holiday base, with all of these routes right on your doorstep. We welcome any types of cyclist, whether it is a group of friends, a local club or just one member of the family looking to get out on a bike as a break from the children! All Simply Morzine properties have secure bike storing facilities.
The road network around the Morzine area of the French Alps usually has excellent surfaces which are regularly maintained after the harsh winter conditions. All the major cols have markers every kilometre for road cyclists. These depict distance to the summit, gradients and average times. Routes and helpful advice can be found in the Morzine-Avoriaz Road Bike Guide (copies are available in all of our Simply Morzine properties).
Road Cycling Events in Morzine
Tour de France – Morzine often features as a stage in the most famous cycling event of all, the Tour de France. In 2016 Morzine hosts the finish of the final stage in the Alps, where the race is won or lost, before the procession to Paris. The riders tackle 4 major cols before racing a 12 km descent down the Joux Plan to the finish line in the Morzine. Our chalets, apartments and hotel are located at the bottom of the Joux Plane or close to the finish line, making for fantastic spectator positions whether staying on a road cycling holiday or just a casual observer.
L'Etape du Tour – Morzine is also host to L'Etape du Tour in 2016, the biggest sportive event in the world, where amateur cyclists are given the chance to ride a leg of the Tour de France. Our managing director, Gareth Marshall, is a keen road cyclist and has signed up to test his mettle on the 146km route which involves 3500m of ascent.
Vallee d'Aulps Cyclosportive – This annual event in late June offers a choice of courses around Morzine: a strenuous 160 km with 3400 m of climbing, or the shorter 105 km which still packs in 1900 m of climbing. A perfect mid-season sportive in the French Alps for a cycle club or group of cycling friends.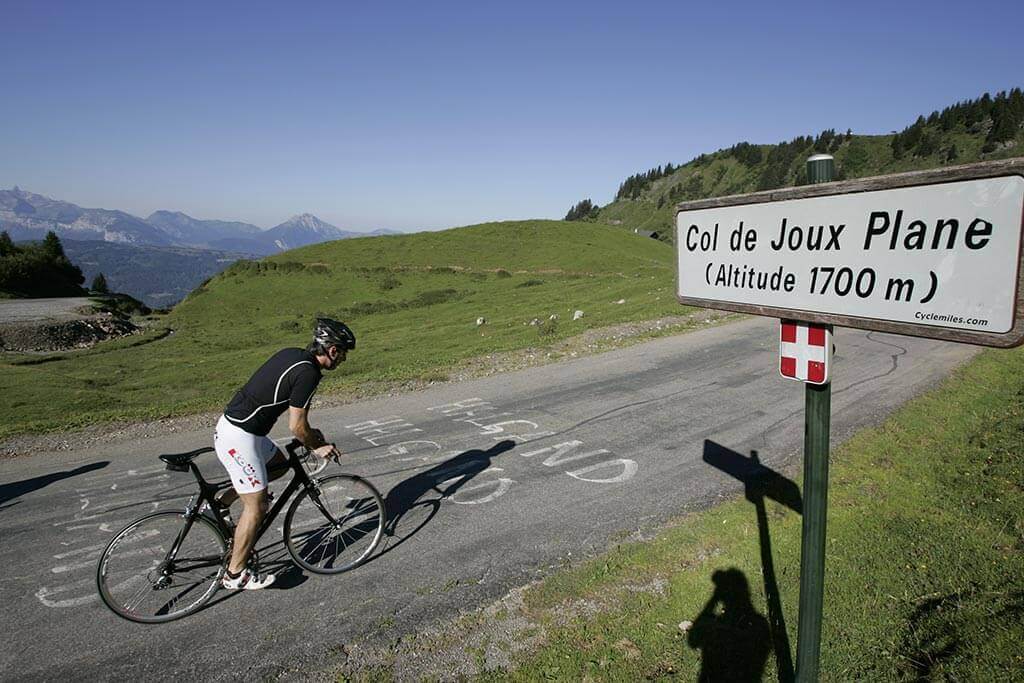 Morzine cycling tours and road bike equipment hire
Morzine has several dedicated road cycling shops, with qualified mechanics, equipment for sale or hire and all the usual accessories available.
Our good friends at Velovation offer supported rides from Morzine:
"Here at Velovation we pride ourselves on providing the best service possible. We offer bespoke fully supported day rides from our home town of Morzine to suite your needs.

We always have the support van with us so there is no need to worry about how much clothing to bring, you can layer up for the descents and delayer for the climbs as much as you like. In the van we will also have extra food, water and a picnic lunch for you.

With Morzine being our home we know all the best routes – whether it's a gentle local loop you would like to do, or an epic multi col ride to the beautiful lakeside town of Annecy.

We love to work with the best chalet companies in Morzine to provide a first-class experience, from bike hire to post-ride massages and of course top-quality accommodation for your road cycling holidays in the Alps.

This is why we work with Simply Morzine for road cycling holidays and tours in the French Alps because we know their exacting standards are as high as ours".
The official Morzine Avoriaz Road Biking Guide also has lots of useful information which you can download here.