Mountain biking
Mountain Biking in Morzine
Mountain biking in Morzine and the Portes du Soleil is amongst the best in Europe and the spiritual home of France's downhill mountain biking scene. This vast resort has a wide variety of terrain and trails, making it world famous for downhill, free-ride and cross-country riding. Our high-quality Simply Morzine accommodation is the perfect base for your mountain biking holiday in the French Alps.
What does mountain biking in Morzine involve?
Many Simply Morzine guests will be new to mountain biking (MTB) and be looking to try the sport for the first time or develop their existing skills. The sport involves riding bikes off road, often encountering mountainous terrain. Mountain biking can be broken down into multiple categories: cross country, trail riding, Enduro, downhill, free-ride and dirt jumping.
The primary categories found on a Morzine mountain bike holiday are downhill trail riding and cross country. Downhill riding involves riding your bike down the mountain and requires certain levels of confidence on a bike. You should expect to be standing up out of your saddle and be comfortable riding over rough ground such as rocks, roots and loose dirt. A common misconception is that MTB in Morzine is a nice, gentle bike ride in the countryside – the harsh landscape of the Alps makes this unrealistic.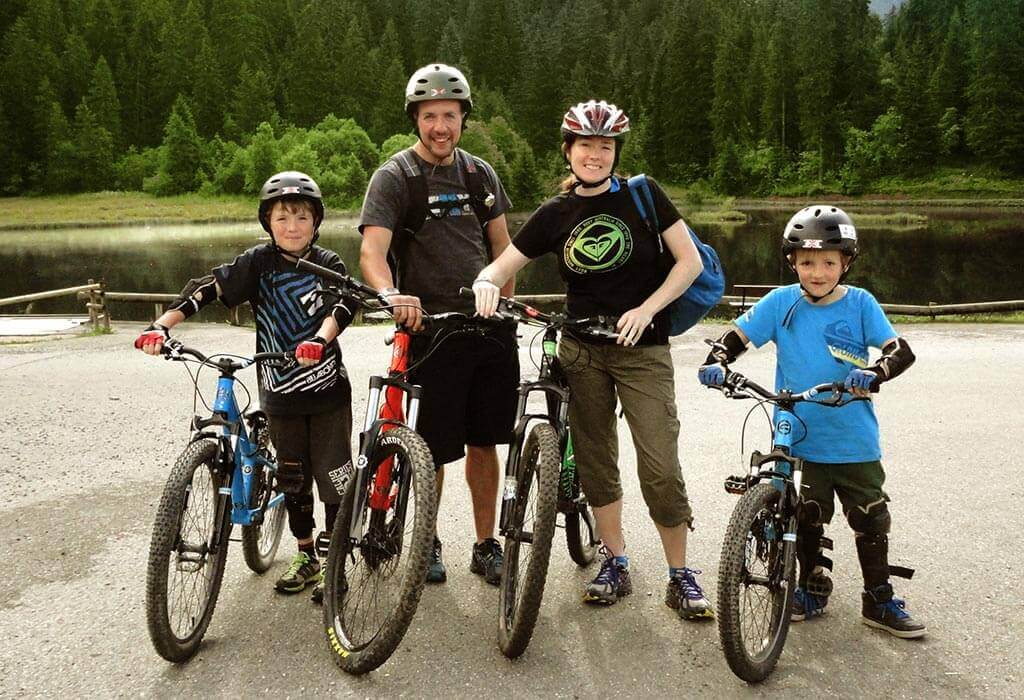 Suitable for all the family and for all abilities
Around Morzine there is a good choice of mountain bike trails suitable for families and riders of all abilities. The man made mountain bike trails marked on the trail maps offer a wide variety of downhill riding for beginners through to expert riders – professional riders often ride in Morzine for the excellent terrain and facilities in this area of the French Alps. There are lots of fire roads and dirt tracks which are suitable for novices aiming to gain confidence riding a mountain bike off road.
Riding in safety with a qualified local guide is imperative for those without experience of mountain biking in the Alps or equivalent mountain ranges.
For anyone new to mountain biking in the Alps / the Portes du Soleil and too advanced to join our family guided day, we strongly recommend booking a qualified private MTB guide to make the most of this vast area with the help of a local expert. This would be money well spent; giving you confidence, technique pointers, suggestions and inspiration to venture out independently on trails that are suitable to your level of riding.
In Morzine, mountain bike trails are graded in the same way as ski pistes:
Green trails – very easy. These trails are suitable for beginners and families; they are usually smooth, well maintained trails on a gentle gradient with flowing berms and occasionally feature mellow table tops.
Blue – easy. Blue trails are still usually a fairly gentle gradient but will often feature more varied terrain such as rocks and roots with larger berms and table tops.
Red – difficult. Red trails are more likely to be steep and require excellent control, confidence and technique. They may feature larger features that can be avoidable.
Black – very difficult. For expert level riders only. Black trails are often very technical and steep, including harsh terrain, large features and long descents.
How do I go mountain biking on my Morzine holiday?
How do I get about with my bike? – The Portes du Soleil resort, with Morzine at the centre, is blessed with a fantastically linked lift system with two main lifts accessing Morzine itself. All you need is a bike pass, which is available at the bottom of the major lift stations. All of the cable cars and chair lifts are fitted with special mountain bike racks, so all the hard work is done for you.
Where do I go? – A free MTB trail map for the Morzine-Les Gets area and the full Portes du Soleil can be picked up from the lift pass offices when purchasing your bike pass. We recommend riding with a qualified guide for those new to mountain bike holidays. Our local French guides, Guillaume & Laurent, are based at Felix Ski shop and available for private mountain bike guiding in Morzine.
Where do I get a bike? – You can bring your own mountain bike; most of our Simply Morzine properties have bike storing facilities. Our partner shop, Morz'na Sport have a range of bikes and equipment available for rent with a generous discount given to Simply Morzine guests. There are also lots of professional MTB shops in Morzine with bikes and equipment for sale or rent. MTB & guiding prices for our partner shop (Morz'na Sport) can be found here.
What do I need? – For your Morzine mountain bike holiday you will need a pair of sturdy trainers with good grip, a rucksack or camel back with water, clothes suitable for the weather (it can be very hot, wet or muddy in Morzine), a puncture repair kit and tools (tools can be found at most lift stations) and safety gear such as a helmet (full faced is advised for downhill), knee and elbow pads and gloves (these are usually provided by rental shops).
A free trail map for the Morzine-Les Gets area and the full Portes du Soleil can be picked up from the lift pass offices when purchasing your bike pass.
The official Morzine Mountain Biking Guide also has lots of useful information which you can download here.
MTB lift pass prices for 2020 can be found here.
SEE OUR SIMPLY MORZINE MOUNTAIN BIKE ADVENTURE ACTIVITY – PERFECT FOR FAMILIES AND BEGINNERS!