Travel and transfers to Morzine
Morzine is amongst the most easily accessible ski and summer alpine holiday resorts in the French Alps from the UK, Ireland and across Europe. Simply Morzine guests can choose from a range of ways to travel to us in Morzine. The majority fly to Geneva airport, before meeting our drivers for a short minibus transfer of approximately 1 hour 20/30 minutes to resort.
Transfers from and to Geneva airport – by Simply Morzine
In winter and summer, Simply Morzine provides reliable and comfortable return shared airport transfers. That is, arrival transfers specifically from Geneva airport to Morzine and departure transfers from Morzine specifically to Geneva airport. Complimentary return shared Geneva airport transfers are offered to all catered Simply Morzine winter and summer guests (if required), or priced at £45 / 52.50€ each way for self-catered Simply Morzine guests and the general public. During the winter season, transfers also include use of our resort shuttle service for Simply Morzine guests.
Simply Morzine's flexible shared airport transfer system allows guests to book whichever flight times they wish, with transfers available at all times the airport is open. We understand the importance of getting you to and from resort efficiently, safely and to maximise ski/holiday time.
Whilst we try to keep any waiting to the necessary minimum, our shared system operates on the basis that guest waiting times at the airport can be up to 60 minutes during the winter season and up to 120 minutes during the summer season. Waiting times can be longer when flights land either before 09:00 or after 21:00, or in exceptional circumstances. Likewise we may ask you to leave resort up to a maximum of 60 minutes (winter) and 120 minutes (summer) earlier than the usual time for a departure transfer (which is normally 4 hours prior to your flight), or more in exceptional circumstances.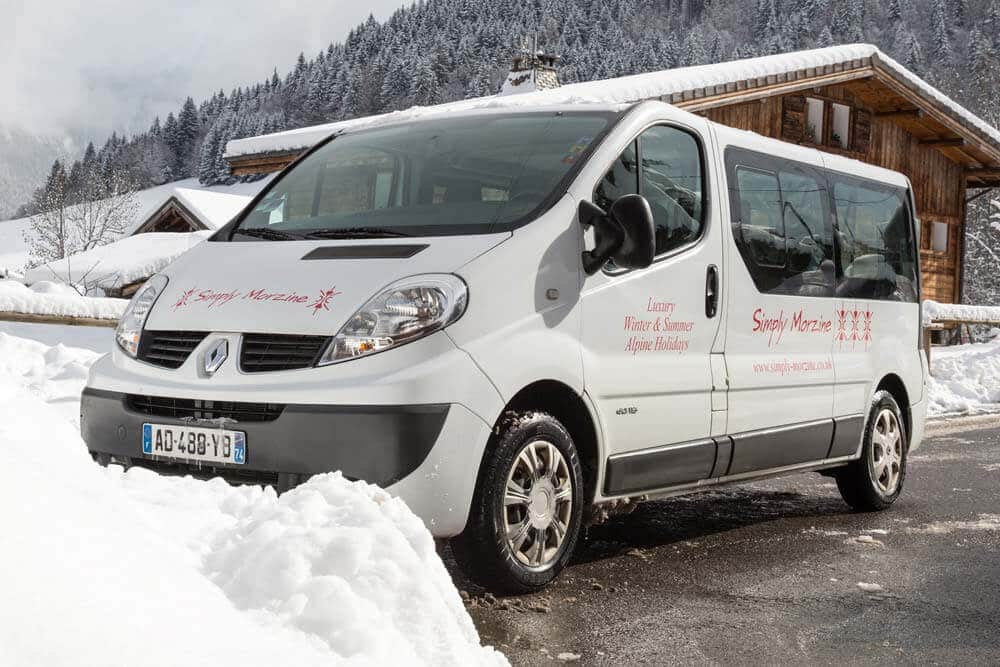 Guest safety
Guest safety is our first priority. Simply Morzine holds a French passenger transport licence and only employs airport transfer drivers who have special authority to drive professionally in the Geneva area of Switzerland. All Simply Morzine vehicles are fully insured and maintained for professional passenger transport. They are equipped with ABS brakes, snow chains, traction control and airbags.
Travelling to Morzine – by air
Only 75km away, Morzine is one of the closest alpine resorts to the gateway to the French Alps, Geneva airport. Flight times from the UK and Ireland are approximately 1 hour 15 minutes to 2 hours. The airport is well served by a number of airlines including easyJet, British Airways, Swiss, Jet 2, Aer Lingus, KLM, Air France, Lufthansa and most other national carriers.
Getting to Morzine – by road
Driving to Morzine is simple, whether you cross the Channel by ferry or Eurotunnel from the UK. The autoroute runs from Calais to within 30km of Morzine. Under normal conditions, the 860km route to Morzine (535 miles) can be completed in around 9 hours. Allow approximately 80 euros each way for road tolls. The journey by road can be completed in a day, or if you wish to stop overnight, there are numerous hotel options close to the autoroute. For guests who drive to Morzine, we send directions from Calais to your Simply Morzine accommodation.
Getting to Morzine – by hire car
If you prefer to hire a car, we advise hiring/collecting from the main Swiss side of Geneva airport (not the French sector). The car hire desks are located in the main (Swiss) arrivals hall. It is easier to access the motorway for Morzine from the Swiss side. Cars hired from the Swiss side will also have the legally required toll sticker (vignette) for driving on Swiss motorways.

Getting to Morzine – by rail
Catch the Eurostar to Paris, from where there are frequent TGV trains (from Gare de Lyon) to Geneva airport, with a journey time of under 3 and half hours. There is also a winter Eurostar service from London St Pancras to Geneva via Lille (approximately 6 hours). We are unable to offer resort transfers from Geneva main train station. Instead, we ask Simply Morzine guests arriving by train to make their way to Geneva airport using connecting shuttle trains (approximately every 10 minutes) between the city centre train station (Gare Cornavin) and Geneva Airport (Aéroport Cointrin).  It is a short covered walk (2-3 minutes) from the airport train platform to the arrival hall, our transfer meeting point.
Travelling to Morzine for your Simply Morzine winter or summer holiday could not be easier.