Morzine Restaurants
If you were to ask the question 'what food do the restaurants in Morzine serve?' most people would respond with 'cheese, meat, and potatoes!' While this is very true, and many great traditional alpine dishes are based on this (raclette, fondue, tartiflette, pierre chaud, the list goes on….) you would be pleasantly surprised to find that the restaurants in Morzine have that and more to offer.
That isn't to say that you can't get these Savoyarde staples of course! Many, if not most, of the restaurants in Morzine do have their own twist on these classics. If you are looking for a traditional cheese fondue, our partners at Hotel la Chaumiere do one on certain evenings, which has been described as 'the best fondue in Morzine' by those in the know.
For those who want to sample what the restaurants in Morzine have on offer, here is a small guide.
Morzine restaurants
If you are looking for something a bit more upmarket, Morzine can also provide that. La Chamade restaurant serves more haute cuisine in a lovely central location. La Chaudanne serve delicious food and has a delightful little wine bar underneath.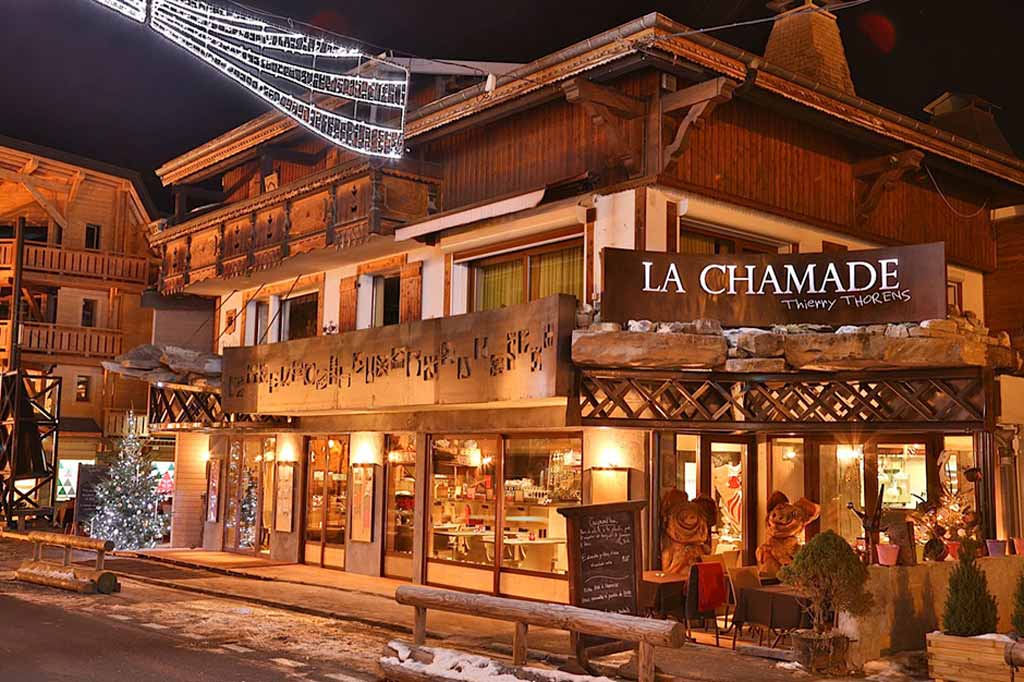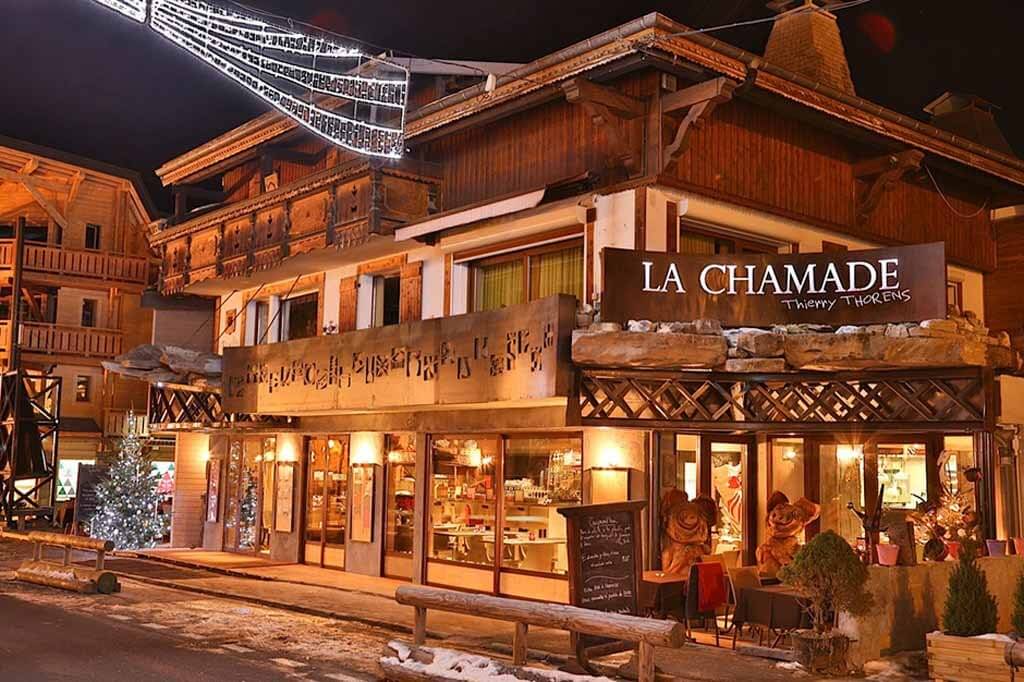 Hidden away down one of the side streets is La Grange restaurant. This is a lovely little spot, with a slightly different menu to many of the restaurants in town. While they still do most of the classics, you will also find some slightly different dishes, such as wild boar!
Another lovely restaurant that always receives great reviews from Simply Morzine clients is Le Clin d'Oeil. Located at the bottom of town by Carrefour supermarket this restaurant boasts a lovely atmosphere.
Morzine definitely has something to offer everyone, and if you are struggling to choose a restaurant for you chalet staff night off, don't hesitate to ask any of the Simply Morzine staff – who have definitely had the chance to sample most of the delicious food on offer!
Local dishes
Raclette – If you are wanting to gorge yourself on cheese, you can't go far wrong in Morzine! Raclette is popular among tourists and locals alike: a humungous block of cheese, which is melted under heat lamps and scraped onto the accompanying potatoes, charcuterie, and salad. Depending on which restaurant you go to this meal can be an eating challenge! Some Morzine restaurants will provide half a wheel of cheese for just two people.
L'etale, located just off the town square and the Tourist Information, is particularly generous with its portion sizes so if you are after a man versus food style challenge then you should take on the Raclette there!
Tartiflette – If you don't want to scrape all the cheese onto your meat and potatoes then why not go for a tartiflette! This delicious combination of all three local staples is served in most of the restaurants in Morzine, usually accompanied by a green salad so that you can at least pretend it's healthy!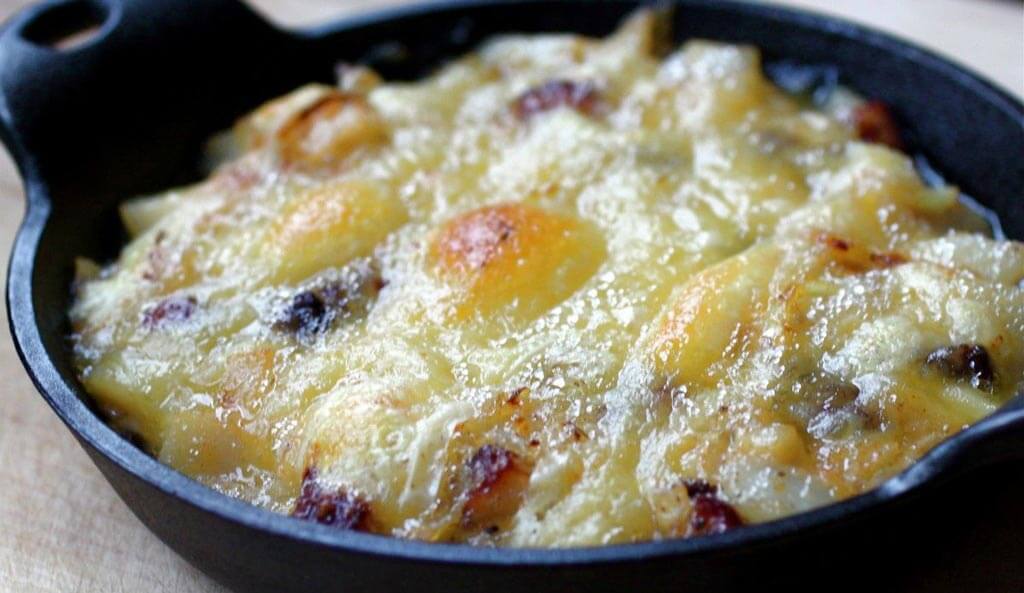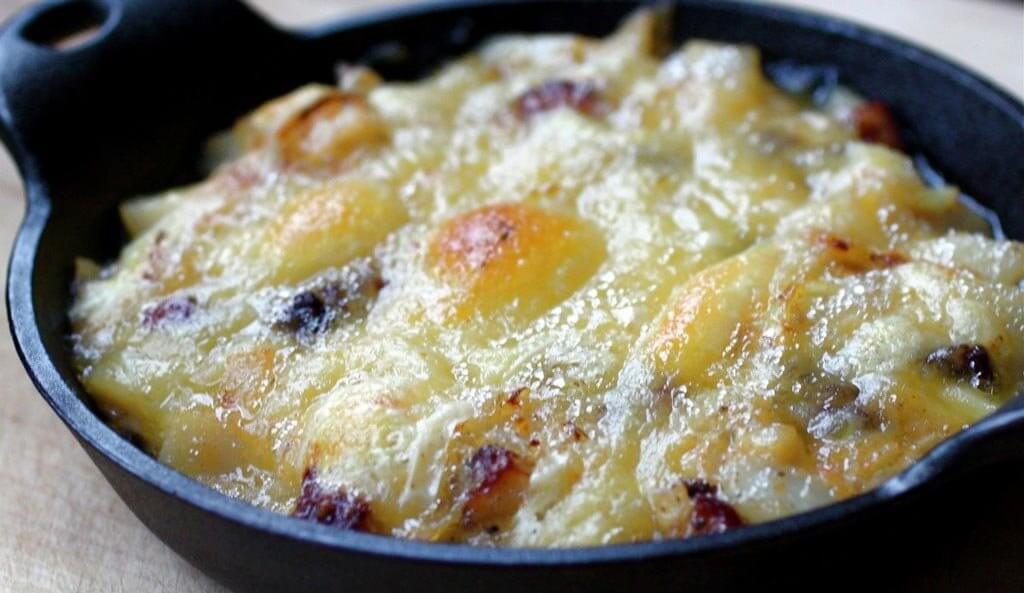 Some restaurants, including Le Grillon, even have a tartiflette pizza – with a cream based sauce instead of a tomato one, and sliced potatoes, onion and bacon topping. Usually named 'The Montagnarde' pizza this is worth a try if you want a different take on the French classic.
La Potence – Many restaurants in Morzine also serve 'La Potence' a.k.a. 'The Meat Tree'. This is basically a mace, hanging cuts of beef, which are flambéed at your table and served with chips, rice and salad. It's delicious, especially if you are more of a fan of meat than cheese, and most of them are all you can eat!
La Pierre Chaude – Another popular meaty classic is La Pierre Chaude. A hot stone on which you cook your own meat! Lots of fun, great for sharing and an experience not to be missed.
Alternative options
Pizzas – most of the local restaurants serve good pizzas, including Le Grillon and La Rotonde. You can also collect great takeaway pizzas from Mamma's, or get a delivery from Chez Persyl.
Pub and snack food – The Bec Jaune microbrewery is a favourite spot for holiday makers and seasonaires alike. A definite hit for vegans or vegetarians! They serve interesting dishes with great sides, that all go down nicely with a glass or two of their home brewed beer.